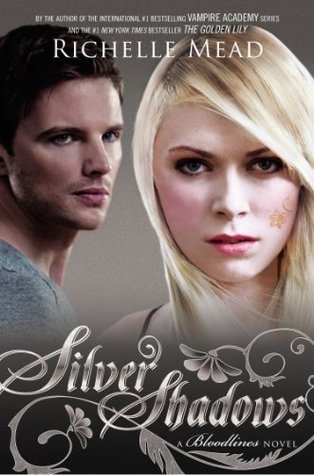 Title: Silver Shadows
Author: Richelle Mead
Series: Bloodlines
Publisher: Penguin Australia
Source: With thanks from Netgalley and publisher
Release Date:  July 2014
Add to Goodreads
The Synopsis
Sydney Sage is an Alchemist, one of a group of humans who dabble in magic and serve to bridge the worlds of humans and vampires. They protect vampire secrets—and human lives.
In The Fiery Heart, Sydney risked everything to follow her gut, walking a dangerous line to keep her feelings hidden from the Alchemists.
Now in the aftermath of an event that ripped their world apart, Sydney and Adrian struggle to pick up the pieces and find their way back to each other. But first, they have to survive.
For Sydney, trapped and surrounded by adversaries, life becomes a daily struggle to hold on to her identity and the memories of those she loves. Meanwhile, Adrian clings to hope in the face of those who tell him Sydney is a lost cause, but the battle proves daunting as old demons and new temptations begin to seize hold of him. . . .
Their worst fears now a chilling reality, Sydney and Adrian face their darkest hour in this heart-pounding fifth installment in the New York Times bestselling Bloodlines series, where all bets are off.
My Thoughts
Just when I thought this series could not get any better, and BAM! Silver shadows Nails it.    In Silver Shadows we get to see more of the Tough and Unbreakable Sydney, we knew that she was strong and could hold her own, but wow trying to survive what the alchemists have install for her, she must cling to who she is and what she believes in to survive torture and horrendous conditions, hoping that a chance comes where she can escape back to Adrian and the Gang.
Adrian is trying desperately to find Sydney and with no leads and no one able to help him, he starts to drown in his depression, which is really sad to see because I have grown so use to the fun and charming Adrian we forget what a combination of Stress and Spirit can do to him.
This story is heart pounding, non stop action.  It is great to see Sydney finally accept who she is and her strengths, to save herself and fellow alchemist rebels that are locked up with her. I could not find fault with this installment and could not put it down.
I highly recommend Silver Shadows and the whole Bloodlines series. If you want a funny, romantic, paranormal series this one is for you.