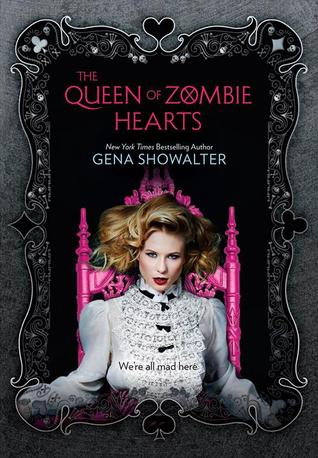 Title: The Queen of Zombie Hearts
Author: Gena Showalter
Series: Alice in Zombieland
Publisher: Harlequin Books
Source: Brought from Harlequin Au
Release Date: September 30 2014
Buy Now:
My Thoughts
This was the Best book yet in the Series! I could not put it down, Ali was awesome as usual but we got deeper insight into her unusual talents and family.
Ali and Cole dive deeper into their relationship, which is still a bit rocky but without over doing the tension between them, They are both such strong, Independent characters that they have to rub each other the wrong way sometimes.
Kat was as sweet and funny as usual and with her relationship with frosty giving us some comedic relief really Kat is one of my favourites I want to see a book about her or Emma. I love her relationship with frosty, she is such a beautiful person and is a rock for all the characters.
So much heartbreak in this story, and yes characters are lost to us, but it was done so beautiful and without making you scream at Gena, of course you are going to bawl your eyes out, but like I said it is done beautifully and with so much action happening in the storyline you don't really get much of a chance to grieve.
I really didn't want this series to end I love it so much, but everything was wrapped up nicely with lots of action, tension and heartbreak, It was the perfect end and I really hope we can get a spin off.
Previous Books:
Alice in zombieland                                                     Through the Zombie Glass