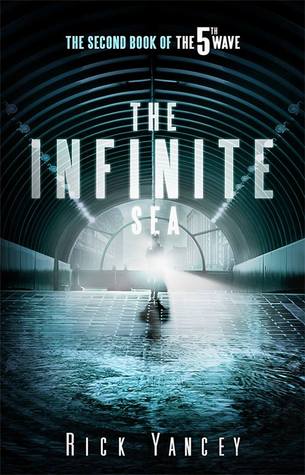 Title: The Infinite Sea
Author:Rick Yancey
Series: The 5TH Wave
Publisher: Penguin Books
Source: Brought
Release Date: September 16th 2014
Buy Now:
My Thoughts
Wow, where to start, when I started reading The Infinite Sea I was a bit confused on who was who, but quickly became immersed in the characters lives again.
I love how Mr Yancey has such a deep understanding of call his characters, you cannot say that there is a main character in his book, as It is told in a few different POV's At first I was frustrated I don't like multiple POV and I didn't really like Ringer but towards the end of the book she really stood out after really getting to the nitty gritty of who she was, You are really rooting for her. Usually in dystopian/Sci-fi books you have one hero the one person throughout all the books that you know is going to save the world, but with this series just as you have that figured out someone else pops up all hero like and keeps you guessing. I have no idea what is next to come all I know is that I couldn't put this book down and I can't wait till 2015 for the next instalment.
Highly recommended reading for anyone who likes Dystopian and Sci-fi hell even just Y.A as I am only just getting my feet wet in the whole
Sci-fi Genre.
Previous Books:
The 5th Wave