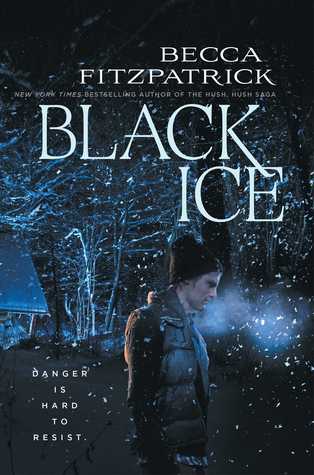 Title: Black Ice
Author: Becca Fitzpatrick
Publisher: Simon & Schuster
Source: Netgalley
Release Date: October 7th 2014
Buy Now:
Danger is hard to resist in this sexy thriller from Becca Fitzpatrick, theNew York Times bestselling author of the Hush, Hush saga.

Brit Pheiffer has trained to backpack the Teton Range, but she isn't prepared when her ex-boyfriend, who still haunts her every thought, wants to join her. Before Britt can explore her feelings for Calvin, an unexpected blizzard forces her to seek shelter in a remote cabin, accepting the hospitality of its two very handsome occupants;but these men are fugitives, and they take her hostage.

Britt is forced to guide the men off the mountain, and knows she must stay alive long enough for Calvin to find her. The task is made even more complicated when Britt finds chilling evidence of a series of murders that have taken place there and in uncovering this, she may become the killer's next target.

But nothing is as it seems, and everyone is keeping secrets, including Mason, one of her kidnappers. His kindness is confusing Britt. Is he an enemy? Or an ally?

Black Ice is New York Times bestselling author Becca Fitzpatrick's riveting romantic thriller set against the treacherous backdrop of the mountains of Wyoming. Falling in love should never be this dangerous.
My Thoughts
I usually hate Murder Mysteries, but this one wow, I picked it because I love Becca Fitzpatrick's books, so I gave it a go and wow I am glad I did.
Britt has been training to backpack the Teton Range, she has taught her self survival skills as well as working on her fitness, all to impress her ex boyfriend who may be joining her and her best friend on this holiday.  At first glance Britt, is superficial and annoyingly reliant on people to save her, but as soon as she finds herself and Korbie sheltering in a cabin with two strangers to wait out a storm, she begins to feel uneasy, until they are taken captive by Shaun and Mason, Britt can either rely on herself, her smarts and her survival skills, or she can wait for the ex boyfriend to save her.
Korbie is horrible, she is jealous, dumb and I did not like one thing about her, she is Calvin's (The Ex) sister and she is only worried about her own survival.  Shaun is Charming and Smooth but something is off about him, and Mason is quiet, reserved and you don't know too much about him.  Calvin is a dick which makes you wonder why Britt loves him so much, although he comes looking for the girls when they don't show up at the Cabin he is obnoxious and treats Britt horrid.
Over all the Characters are Amazing, you either hate them or love them but either way they all fit into the story perfectly. I love seeing Britt change and learn to adapt to any situation to survive, and stumbling across some clues from a recent spat of disappearances, it is a book you just can't put down till the end.