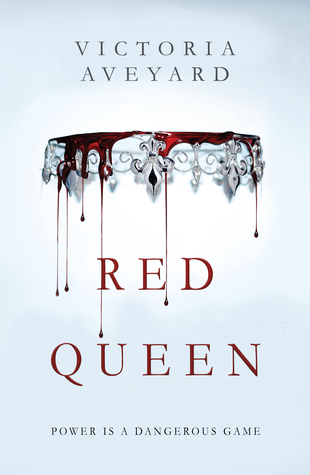 Title: Red Queen
Author: Victoria Aveyard
Series: Red Queen Trilogy #1
Publisher: Hachette Australia
Source:  Publisher
Release Date: February 10th 2015
Buy Now:
The poverty stricken Reds are commoners, living under the rule of the Silvers, elite warriors with god-like powers.

To Mare Barrow, a 17-year-old Red girl from The Stilts, it looks like nothing will ever change.

Mare finds herself working in the Silver Palace, at the centre of
those she hates the most. She quickly discovers that, despite her red blood, she possesses a deadly power of her own. One that threatens to destroy Silver control.

But power is a dangerous game. And in this world divided by blood, who will win?
My Thoughts
This book was Amazing!! I could not put it down, and after being in a reading slump this is just what I needed to get reading again.  Red Queen first of all the cover oh my god I did not even read the blurb first I just had to have it, so simple and clean but gets the message across wonderfully.
I would recommend Red Queen to anyone that enjoys The Hunger Games and the Selection novels.  The people are segregated into two groups the silvers which are determined by their blood, it is coloured silver and they have magical abilities, and the Reds which the people bleed red and are used as the workers, common people and slaves. The usual story in a dystopian, but except for Mare who is a red born and bred, but has magical abilities that she can not control, she is so special that the Elites pretend that she is one of them, but we all know that you cannot pretend to be someone you are not forever.
Red queen is a struggle for power between those who have it and those who don't but also a struggle to right wrongs and make the reds equals. I highly recommend this book and I cannot wait for the next instalment to be released, do your self a favour and click the Amazon link above and get this incredible book.