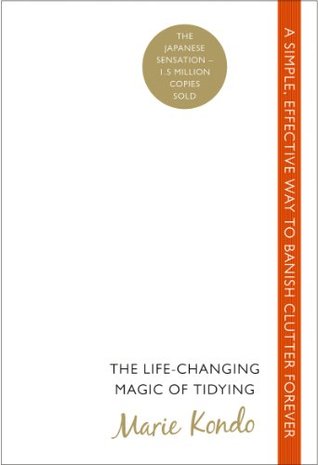 Title: The life-changing magic of tidying
Author: Marie Kondo
Series: Stand alone
Publisher: Ebury Digital
Source: Brought
Release Date:  December 27th 2010
Buy Now:
"

Transform your home into a permanently clear and clutter-free space with the incredible KonMari Method. Japan's expert declutterer and professional cleaner Marie Kondo will help you tidy your rooms once and for all with her inspirational step-by-step method.
The key to successful tidying is to tackle your home in the correct order, to keep only the things you really love and to do it all at once – and quickly. After that for the rest of your life you only need to choose what to keep and what to discard.
The KonMari Method will not just transform your space. Once you have your house in order you will find that your whole life will change. You can feel more confident, you can become more successful, and you can have the energy and motivation to create the life you want. You will also have the courage to move on from the negative aspects of your life: you can recognise and finish a bad relationship; you can stop feeling anxious; you can finally lose weight.
Marie Kondo's method is based on a 'once-cleaned, never-messy-again' approach. If you think that such a thing is impossible then you should definitely read this compelling book.
My Thoughts
I am such a clutter bug, and so far this book has been great in getting me motivated to get rid of my clutter, basically Marie Kondo has one question does this make you happy? every Item you pick up you need to ask yourself this question if the answer is no, then let it go.
I have always been a clutter bug and disorganised so I am always looking for that book that will tell me how to change my life, I have heard so many things from this book and their are so many you tube video's dedicated to this book that it is amazing.  I found the book to  be informative, easy to read and yes sometimes amusing, probably not for the reasons it should be.
I highly recommend anyone who struggles to find balance in their life to check this book out, So far I have lost so much junk from my house and I am starting to feel free. Check out some of the you tube videos available too.