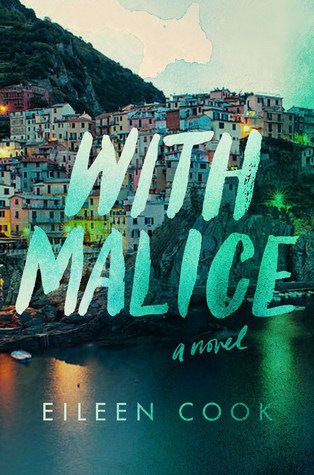 Title: With Malice
Author: Eleen Cook
Series: Stand alone
Publisher: Houghton Mifflin Harcourt Children's Book Group
Source: Netgalley
Release Date: June 7 2016
A read about a teenage girl who wakes up in a hospital bed and cannot remember the last six weeks of her life, including the accident that killed her best friend–only what if the accident wasn't an accident?
Eighteen-year-old Jill Charron wakes up in a hospital room, leg in a cast, stitches in her face and a big blank canvas where the last 6 weeks should be. She comes to discover she was involved in a fatal accident while on a school trip in Italy three days previous but was jetted home by her affluent father in order to receive quality care. Care that includes a lawyer. And a press team. Because maybe the accident…wasn't an accident. Wondering not just what happened but what she did, Jill tries to piece together the events of the past six weeks before she loses her thin hold on her once-perfect life.
My Thoughts
With Malice was extremely engaging, Jill has everything a full ride to Yale, money and she is looking forward to heading to Italy for an educational experience through a student program. Simone is beautiful and popular she is also Jill's best friend, when finding out Jill was heading to Italy she decided to join as well.

Unfortunately for the girls, a horrible accident occurs. JIll wakes up in a hospital with no memory of her trip to Italy or the accident.

The story is focused on Jill's recovery and her trying to remember what has happened, as the world turns on her and rumors start flying, Jill cant refute the claims since she can't remember what happened, all she knows is that she never would have hurt Simone, she loved her as a best friend.

You really feel for Jill she has lost her best friend and she can't mourn her because the media is blowing up saying that she is a murderer. We get to follower her small triumphs as she has regular therapy and rehab to regain her memory and mobility.

You really feel drawn in to the story, and Jill is so sweet that you know she is the wronged person in this whole mess, but with circumstantial evidence the Italian police are trying to extradite her to Italy to face charges while her parents and a lawyer try to clear her name.

I loved the story and the characters, the only thing I found disappointing was the ending, it was left some what blurry. I would really have liked a solid conclusion.

other than this I highly recommend With Malice as a great read.