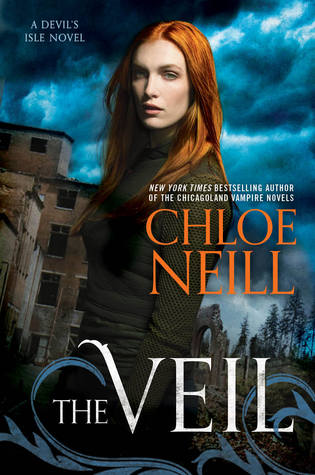 Title: The Veil
Author: Chloe Neill
Series: Devils Isle #1
Publisher: Hachette Australia
Source: Supplied by Publisher
Release Date: 14 th April 2016
Buy Now:
Amazon currently priced at $11.99
Seven years ago, the Veil that separates humanity from what lies beyond was torn apart, and New Orleans was engulfed in a supernatural war. Now, those with paranormal powers have been confined in a walled community that humans call the District. Those who live there call it Devil's Isle.
Claire Connolly is a good girl with a dangerous secret: she's a Sensitive, a human endowed with magic that seeped through the Veil. Claire knows that revealing her skills would mean being confined to Devil's Isle. Unfortunately, hiding her power has left her untrained and unfocused.
Liam Quinn knows from experience that magic makes monsters of the weak, and he has no time for a Sensitive with no control of her own strength. But when he sees Claire using her powers to save a human under attack—in full view of the French Quarter—Liam decides to bring her to Devil's Isle and the teacher she needs, even though getting her out of his way isn't the same as keeping her out of his head.
But when the Veil threatens to shatter completely, Claire and Liam must work together to stop it, or else New Orleans will burn…
My Thoughts
I really enjoyed reading the Veil, and even though it was a post apocalyptic novel, It did not really feel like it.  There is so much going on in this novel that at times you have to back track a bit to find your self but it is non stop action.
Claire has a secret she is a sensitive , which means she has special powers, unfortunately since a magical war happened seven years before, all sensitives are captured and locked up. lucky for Claire she has some good friends that can help her out and keep her hidden.  While secretly fighting a battle to stop the Veil from reopening.
the world building is a bit tricky I believe that around the Veil where the war was they live in strict rules with containment the major government body and law enforcement. but during the book it hints that outside that area the world goes on like nothing happened. which I find curious, why would you live in that area if you were sensitive or even not. because everything is rationed and hard to get in the area.
Aside from that, I really enjoyed this book the characters were amazing and only a hint of romance with most of the plot focusing on Claire's powers and the veil which is a refreshing change, and most importantly no love triangle!
I am really looking forward to reading the next book and continuing the story.  I recommend this book for anyone who loves urban fantasy.